Okay… brace yourselves!
I have a shameful confession to make.
I… have… not… yet… planted… my… seeds.
Whew!! That was hard to say, but now that I've said it I feel much better!
I meant to plant them, I made plans to plant them, but life kept getting in the way.
The first obstacle was how gloomy it's been most of the week. I want to take pictures of the process so I can share it with you. When it's gloomy the pictures don't come out as nice. There was one beautiful day, but that was also the day I had to run around with Morgan trying to find him a new car now that his old car has been declared a write off by the insurance company ( a story in itself, which I will share at a later date.)
Add in, house cleaning, bus driving, groceries, etc. etc….
Still no seeding done!
I did get this far however…
It was not too cold when I decide to go out to get my planting supplies
Here's my work area. I love my work area! I had picked this spot for a work area the day we moved in, but due to the raspberry bushes, gigantic weeds, split bags of horse feed(?) and work on the rest of the garden it had to wait. But now… a spot all my own!
Now… here it is… my very own shed… Henry made it for me by reusing the kids playhouse and adding on to it, figuring it out as he went along. It only took one entire growing season.
Oh wait… what's this? Bikes? Nope…it's not totally my own shed… grrrr… Henry's garage is way bigger than my shed! It makes much more sense to store them in there. Really. He doesn't have that much stuff in there. Really. Sigh… okay, I admit it. The garage is very full right now.
Wow! Look at all the cool stuff in here! Doesn't it make you want to go out and dig right now?
So… Let's see what we have in here…
Hmmm… Someone was very organized last fall… But then, that's just the way I am… Really.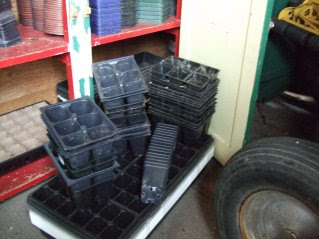 This is as far as I've gotten. These pots have made it in the house, where they wait impatiently to be filled. Maybe tomorrow…
Got to go now, I have kids from grades one to nine anxiously waiting to go skating on the big frozen lake (man made) at Hawrelak park. It's only -9C so it should be fun.
And I promise… you will see my seeding efforts soon…